SWEETY SHAWARMA MACHINE:
We have innovated a chocolate shawarma machine, which keeps, saves, and protects chocolate in a suitable temperature (18 degree), to maintain its quality and Delicious taste. This machine is easy to operate and clean, full made of steal , and suitable for foodstuff.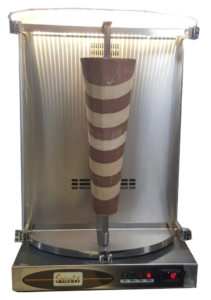 ---
CREPE MAKING MACHINE

We have innovated a Crepe making machine with special specifications, to converting Crepe to ready cooked crepe, during only 20 second only.
We use this delicious crepe on making Swetty Shawarma sandwich, and other wonderful sweets.
---
ICE CREAM MAKING MACHINE
The machine frozeice cream very quickly, where the temperature of machine down to -42 degrees Celsius. During mixing process with the cold temperature it makes Ice cream frozen, which we use it to make Sweety Shawarma sandwich with Crepe, chocolate, and other delicious ingredients with fruit slices and ice cream rolls.
In addition to five refrigerated bowls to store ice cream ingredients for easy access, during mixing process and making ice cream.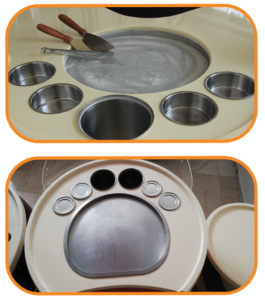 ---
SWEETY CHOCOLATE